DJI Mini 3 Pro has been officially launched by the reputed manufacturer of unmanned aerial vehicles (drones), DJI.
The company is well-known for its commercial aerial photography and videography, and DJI products have global recognition and followers. The recent launch is one of the smallest and most compact devices launched to date by the company and is also definitely one of the best drones available in Nepal right now.
Though small in size, DJI Mini 3 Pro has an abundance of handful features to excite its users. The lightweight drone can record high-resolution videos with a decent flight time. With this drone, the user will be able to shoot videos even during the nighttime. It can detect objects on the way, can provide live feed at HD resolution and many more.
Let's get into the details to see what more DJI Mini 3 Pro has to offer.
Specifications
Dimensions (L*W*H)
145*90*62mm (Folded)
171*245*62mm (Unfolded)
251*362*70mm (Unfolded with propellers)
Diagonal length: 247mm
Takeoff weight
249 grams
Flight time
34 minutes 47 mins (with Intelligent Flight Battery Plus)
Transmission distance
Up to 12 km
Maximum speed
16 m/s (S Mode)
10 m/s (N Mode)
6 m/s (C Mode)
Maximum ascent speed
5 m/s (S Mode)
3 m/s (N Mode)
2 m/s (C Mode)
Maximum descent speed
5 m/s (S Mode)
3 m/s (N Mode)
1.5 m/s (C Mode
Max service ceiling above sea level
With Intelligent Flight Battery: 4000 m
With Intelligent Flight Battery Plus: 3000 m 
Max hovering time
30 mins (with Intelligent Flight Battery, no wind)
40 mins (with Intelligent Flight Battery Plus [7], no wind)
Operating temperature
-10 degrees Celsius to 40 degrees Celsius
Stabilisation
3- axis mechanical gimbal (tilt, roll and pan)
Camera sensor
1/1.3 inch CMOS, 48MP, f/1.7 82.1 degrees FOV
ISO range
100-6400 (Auto)
100-6400 (Manual)
Zoom range
4K: 2x 2.7K: 3x FHD: 4x
Live view quality
[email protected]
GNSS
GPS+ Galileo + BeiDou
Bluetooth
Version 5.2
Battery
Intelligent Flight Battery
2453 mAH Li-ion, 80.5 grams
37W max charging power

Intelligent Flight Battery Plus
3850 mAH Li-ion, 121 grams
58W max charging power

SD card
UHS-I speed class 3 or above
Mobile device App
DJI fly
Required operating system
iOS11 or later Android 6 or above
Price
Rs 140,900
Design and build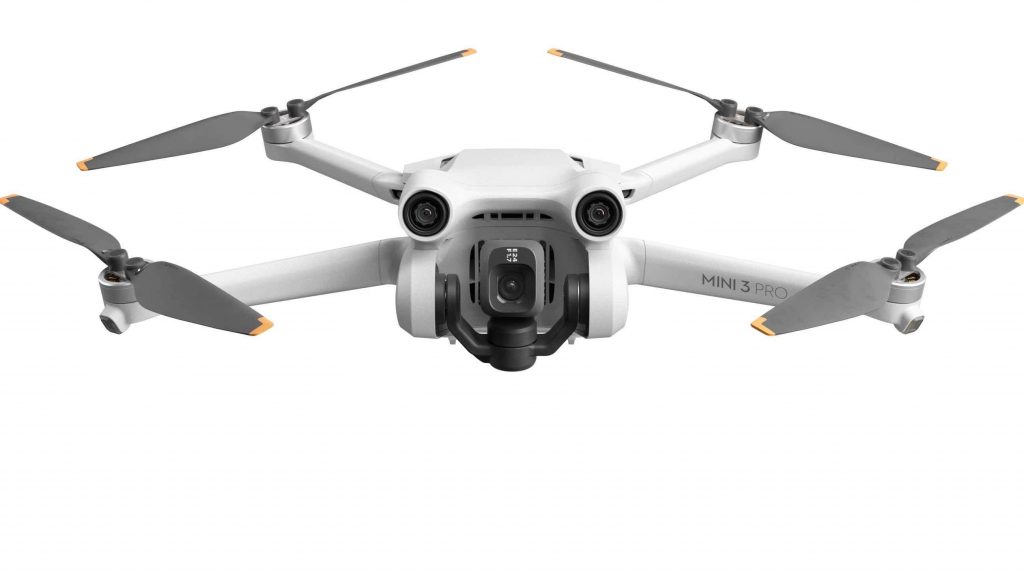 The DJI Mini 3 Pro flaunts a completely new look and offers a premium build quality. This drone is one of the most portable drones and is regulation friendly as well. It is a lightweight drone that only weighs around 249 grams and does not require registration in most countries. In Nepal, however, you may require permits from other agencies although the Civil Aviation Authority of Nepal exempts you.
Though being lightweight, it has been upgraded with an abundance of safety and top tier features. The drone is foldable and can be easily carried around.
The drone measures 251 × 362 × 70 mm (L*W*H) when unfolded with the propellers and 145 × 90 × 62 mm when folded. The DJI Mini 3 Pro features large propellers, an aerodynamic body tilt and a powerful obstacle sensing system. The drone also comes with a DJI RC remote controller, said to be an improved version of the previous controllers. It has a 5.5-inch display and is integrated with DJI Fly.
Camera sensor
DJI Mini 3 Pro features a 1/1.3-inch 48 MP camera CMOS sensor with an aperture of f/1.7 and an 82.1° field of view (FOV). The drone is just as powerful as it is portable. There is a larger sensor on this drone compared to the ½ inch sensor seen on its predecessor. The new sensor allows the drone to shoot 4K resolution videos up to 60 fps but is limited to 30 fps in 4K HDR video mode. It can also shoot slow-motion videos in 1080p at 120fps.
Furthermore, the new sensor also features a d-cinelike colour mode that was not available in the previous generation models. This feature provides editors more flexibility while editing as it offers more visual information and richer colour possibilities.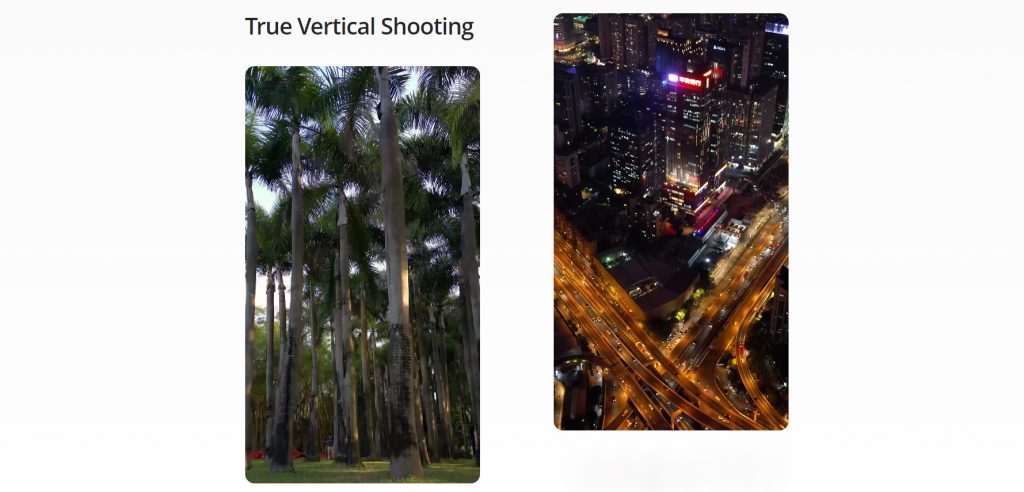 Other than this, DJI Mini 3 Pro supports true vertical shooting focused on social media sharing. The reimagined camera gimbal on the drone offers a wider rotation range for low-angle shots. The camera supports HDR, various JPEG, DNG (RAW) photo formats, and MP4/MOV video formats.
Other camera features include:
True vertical shooting
Focus track
Master shots
Hyper lapse
Digital zoom
Day/night flight
180-degree panorama shots
Battery life, flight time and other features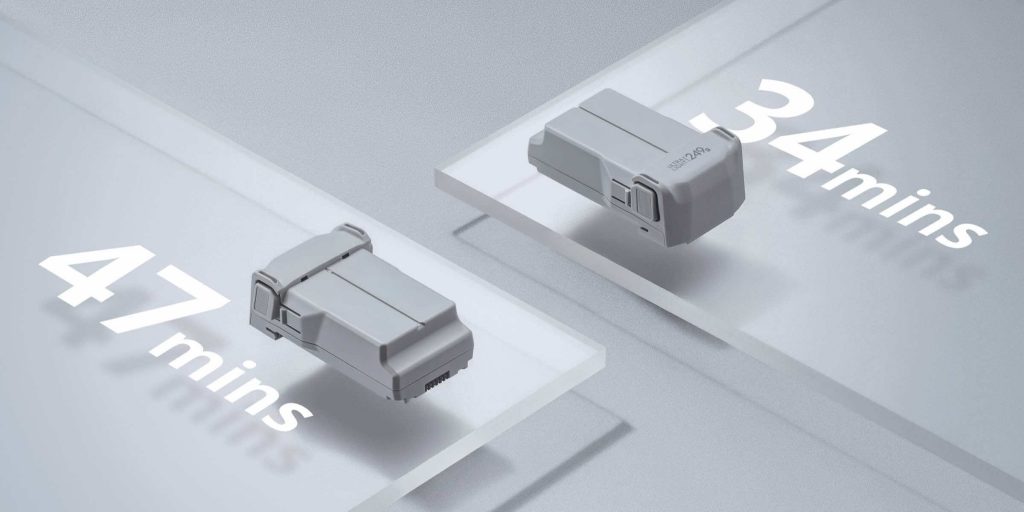 DJI Mini 3 Pro offers two battery options. The user has the option to go with either the standard Intelligent Flight Battery or the Intelligent Flight Battery Plus. With a 2,453mAh battery power, the Intelligent Flight Battery can provide a flight time of up to 34 minutes while getting fully charged in 64 minutes. Meanwhile, the Intelligent Flight Battery Plus offers a better flight time of up to 47 minutes and features a larger 3,850mAh battery back up and gets fully charged in 101 minutes. The drone gets charged with a DJI 30W USB-C charger port. 
The connectivity option on DJI Mini 3 Pro includes Wifi 802.11 a/b/g/n/ac and  Bluetooth 5.2. The latency between the aircraft and remote controllers is only 120 ms but also fluctuates on environmental conditions and mobile devices. The drone can be connected through the DJI Fly app. To be compatible with the drone, the device should either have iOS v11.0 or later or Android v6.0 or later.
Other features on DJI Mini 3 Pro include:
APAS 4.0 (detects objects in the drone's flight path in real-time)
1080p/30fps live feed at distances up to 12 km
Tri-directional forward, backward, and downward sensing systems for precision measurement
Quick transfer
The price of the DJI Mini 3 Pro is Rs 140,900. The Fly More Kit and Fly More Kit Plus cost an additional Rs 25,500 and Rs 35,500 respectively.
The post DJI Mini 3 Pro: One of the smallest and best in Nepal's current drone market appeared first on OnlineKhabar English News.